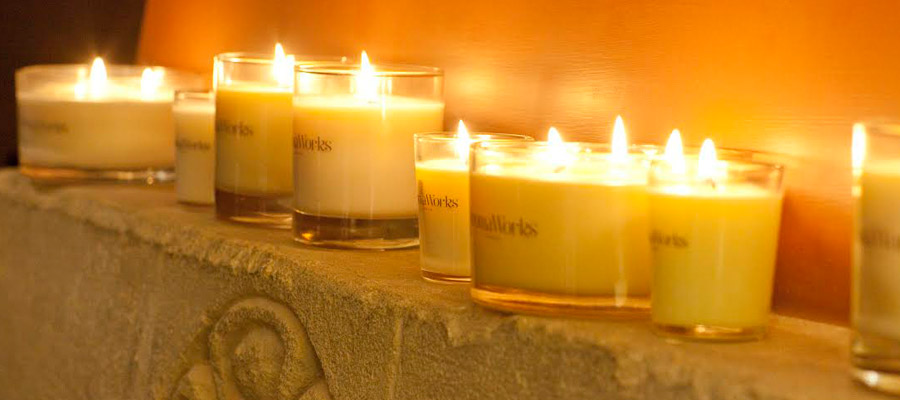 True purity is without compromise – Aroma Works
With a commitment to 100% pure essential oils and all natural ingredients, AromaWorks is built on this conviction and delivers an extensive range of skincare products that are 100% natural.
---
AROMAWORKS MASSAGE
Express Ritual
A classic back, neck and shoulder massage to help relieve specific areas of tension. The perfect 'quick fix' if you cannot spare the time for our full body ritual.
Back neck and shoulder massage: £35 for 30 minutes
---
Bespoke Body Ritual
A unique full body indulgence where the massage techniques, the pressure, and the blend of essential oils are completely tailored to your needs. Allow your therapist to help you choose from our Relaxing, Revitalising, or Detoxifying massage oils.
Full body massage: £50 for 60 minutes
---
Thermo – Therapy Experience
A highly therapeutic massage using the energy and heat retaining properties of volcanic basalt stones. Deep and fast penetration of the muscles is achieved to release tension in the body, and promote profound relaxation. The warm stones will be used as an extension of your therapist's hands, as well as being expertly placed on energy centres of the body. With the addition of one of our Signature Body Oils, this treatment becomes a truly blissful experience.
Hot stone massage: £60 for 60 minutes
---
Energy Point Remedy
The hands or feet are firstly refreshed with warm soothing mitts. The key reflex points are then stimulated before these areas are massaged further to relive tired muscles. A 'short but sweet', highly effective treatment.
Hand or foot reflex massage: £35 for 30 minutes
---
Pressure Point Scalp Massage
This deeply relaxing scalp and neck massage uses Eastern techniques to relieve tension and restore your natural energy flow. The calming properties of our Soulful essential oil blend help de-stress and revitalise the mind and body.
Scalp and neck massage: £35 for 30 minutes
---
Muscle Relief Therapy
A deep tissue massage treatment designed to intensely release muscle tension. Allow your therapist to tailor your treatment to focus on any specific areas of concern. Choose between our uplifting blend of Neroli and Lemongrass, or our pain relieving blend of Lavender and Cypress to assist in this total body transformation.
Deep tissue massage: £50 for 60 minutes
---
AROMAWORKS BODY TREATMENTS
Himalayan Body Brilliance
This wonderful body polish treatment uses rare pink Himalayan sea salt to exfoliate the body leaving it silky soft and delicately fragranced. An expert blend of 84 Trace Minerals detoxifies the body and encourages nutrient absorption to nourish the skin. This brilliant treatment is completed with a conditioning fusion of 12 BioActive ingredients including the highly effective Seagrass.
Body scrub and moisturise: £45 for 45 minutes
---
Purifying Pamper
This treatment is specially designed to remove the build-up of toxins in the body and help purify the skin. An ideal treatment to coincide with any dietary detoxification process. We begin by Body Brushing and Exfoliating to increase circulation and remove any unwanted skin. A powerful blend of Coriander and Rose Geranium is then massaged into the skin using lymphatic drainage techniques and Meridian point therapy to stimulate the body and boost toxin removal. Finish your treatment with a serving of our cleansing tea to ensure you are purified from the inside out.
Detox body brush, exfoliate and massage: £65 for 75 minutes
---
Cocoon Indulgence
Drift away dreamily in our warm and cosy body wrap- an experience like no other! A delicate blend of sea salt and coconut oil is used to refine and rebalance the skin, before a rich formulation of Pumpkin Seed Oil and Glycosaminoglycans is generously applied to the entire body. Lie back on our heated blanket and allow yourself to be cocooned whilst your therapist performs a rejuvenating facial. Listen for the sounds of our Tibetan bowl to gently awaken you from your tranquillity.
Body wrap and mini facial: £75 for 90 minutes
---
AROMAWORKS FACIALS
The Absolute Facial
A wonderfully relaxing yet instantly effective facial treatment for all skin types. Allow your therapist to tailor your treatment to suit your needs, with skincare containing premium essential oils and active ingredients Coenzyme Q10 and Glycosaminoglycans. Once the skin has been thoroughly cleansed and exfoliated, one of our four Signature Facial Oils will be massaged into the face, neck, chest and shoulders. Our super hydrating Absolute Face Serum will then be left to melt into the skin whilst you enjoy either our hand or foot energy point massage. The anti-ageing properties of our 14 BioActive ingredients, including Rose and Sandalwood, leave your skin with improved elasticity and a bright youthful appearance.
Full facial: £50 for 60 minutes
---
The Absolute Express Facial
This shortened version of our full facial is perfect for a quick refresher when you can't spare a whole hour of pampering.
Mini facial: £35 for 30 minutes
---
The Absolute Eye Treatment
This treatment has been designed to reduce the appearance of puffiness and dark circles in order to brighten the delicate area surrounding the eye. It involves the use of pressure point therapy and lymphatic drainage techniques, alongside the powerful properties of Arnica and Marine Glycosaminoglycans to boost circulation and support toxin removal. A deeply hydrating treat to reduce the signs of ageing and leave you feeling 'bright eyed and bushy tailed'.
Eye brightener: £35 for 30 minutes
---
The Absolute Deluxe Facial
A luxurious treatment combining 'The Absolute Facial' and 'The Brightening Eyes Treatment' into one sublime experience. Once the skin has been cleansed and treated with active ingredients Meadowsweet, Bamboo Powder and Seagrass, you may indulge in either a pressure point Scalp, Foot, or Hand massage whilst your rejuvenating face mask seeps into your pores. Our Absolute Eye Serum will then be applied using specialist techniques to brighten and tighten the skin, to ensure you are left looking and feeling totally luminescent. Our Nourishing Day Cream locks in the layers of this skin delight with Calendula and Kakadu Plum to leave you with a radiant glow.
Facial and eye treatment combined: £65 for 75 minutes