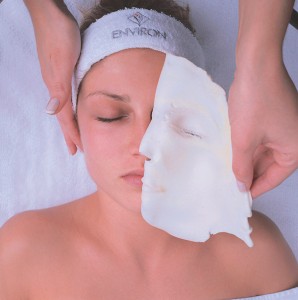 The facials are uniquely prescribed to your own personal skin requirements. Each facial begins with a detailed consultation where we devise your own programme of salon based treatments and products for use at home.
Environ is suitable for treating a number of skin conditions (some are easier to treat than others) but many users see notable improvement soon after starting their treatment. Some skin conditions take commitment and patience from both the client and therapist – this will all be discussed at your initial consultation.
Environ Ionzyme DF Machine
This machine provides facial treatments which are at the very forefront of scientific skin care. This is one of the most effective treatments in the world today for enhancing the penetration of high doses of vitamins into the skin.
Specific Environ products used in these treatments contain the optimum strengths of vitamin A and C plus additional growth factors. To enhance the penetration of these products through the skin providing better penetration of the active vitamins and essential factors into the skin. This technique is crucial because skin has a natural, waterproof barrier that hinders the penetrations of vitamins. The Ionzyme DF Machine manages to overcome this resistance with two tried and tested methods:
Iontophoresis – involves the use of an electrical current to facilitate greater penetration of vitamins into the skin. This may sound scary, but it is not.
Sonophoresis – involves the use of sound waves to transport vitamin molecules through the skin. The sound used is the same as the sound made by dolphins, which produces better penetration through the skin.
Iontophoresis is used for relatively large surface areas such as the face and neck, whereas Sonophoresis is used on limited areas such as the upper lip and the concentration of character lines around the eyes, on scar tissue and on pigmentation marks. Both methods can be combined, where necessary, for intensive treatments. It is also useful for reducing pore size, evening skin tone, tightening, lifting and brightening your skin, while providing an overall healthier appearance.
The treatments are designed to stimulate maximum thickening of the skin, normalisation and improvement of collagen and elastin, better control of pigment production, restoration of normal blood flow and proper oxygenation of the skin.
In some cases a treatment plan is recommended for optimul results.
For an even more enhanced treatment we also offer Cosmetic Needling (Roll CIT) to dramatically increase the effectiveness of our skin care products, allowing improved penetration of vitamins into the active layers of the skin. "Micro-needles" puncture the horny layer of the epidermis, which is the main obstruction to penetration of active ingredients. This results in their passage to attain depths in the skin about 10,000 times more than by simply applying the products topically. The higher the levels of vitamin A and vitamin C that can penetrate into the lower layers of the epidermis, the more collagen can be made.
---
Ionzyme Active Vitamin Facial (3 areas)
60 minutes, £65.00
Ionzyme Active Vitamin Facial (10 areas)
90 minutes, £80.00 (add on mini peel extra £10)
Course of 5, get 6th facial free
Course of 12 and get 2 for free
Course of 24 and get 4 for free
Packed with nourshing, anti-aging ingredients, the Active Vitamin Treatment will eave your skin looking radiant and dewy. the freshest, most active forms of Vitamin A, C and Anti-Oxidants are driven deep into the lower layers of the skin using soundwaves and small electrical pulses. This scientific approach stimulates collagen to soften lines and improve elasticity, increase hydration and boost radiance. The Active Vitamin Treatment is suitable for all skin types and is particularly effective at addressing sun-damage, pigmentation, premature ageing, dryness, uneven skin tone and scarring with measurable difference after just one session.
---
Ionzyme HydroBoost Facial
The perfect antidote to dry, lacklustre skin, this intensive treatment deeply hydrates while plumping and firming the skin. Based hyaluronic acid, which holds 1000 times its own weight in water, helps to reduce fine lines caused by dehydration and increase the plumpness of the dermis, resulting in moisturised, glowing skin.
£70 for 60 minutes
---
Ionzyme Frown Treatment Facial
This highly effective treatment uses a special penta-peptide serum to target frown lines & crows feet. The unique combination of ingredients is driven deep into the skin to soften lines and reduce muscle tension in the forehead helping to prevent new lines forming. The treatment targets the same chemical complexes as injectables without the associated risk and ensures facial expressions are maintained.
£75 for 45 minutes
---
Precision Express Treatment
This time-effective treatment focuses on one or two specific areas of concern using unique skincare techniques that ensure effective results with the Ionzyme machine. Skin laxity, lines around the eyes or hyper-pigmented blemishes can be targeted.
£35 for 30 minutes
---
Purifying Express Treatment
Created to purify, micro-exfoliate and rehydrate your skin, this particular treatment assists with addressing problem skin, scarring and deep congestion. The combination of scientifically advanced products and techniques revives and refreshes, leaving skin feeling like new.
£45 for 45 minutes
---
Collagen Power Facial
This peptide-packed facial helps to boost collagen, soften fine lines and tighten lax skin, resulting in a more youthful appearance. This innovative treatment uses gentle soundwaves to drive a special nutrient-packed serum deep into the skin. The formula contains a unique combination of three powerful peptide complexes* which work in synergy to give skin a plumper, more radiant appearance. Ideal for dry, sun damaged or mature skin, it's the perfect pick me up!
£65 for 60 minutes
£80 for 90 minutes
---
Teenage Educating Facial
A facial designed for young teenage skin, whether it be spotty, blackhead or simply skin that is feeling the effects of hormonal changes. Advice will also be given on how to look after and improve the skin whilst at home. This is a fantastic introduction to healthy skin.
£35 for 40 minutes